Other Personal Injury
A Competent, Caring and Compassionate Approach to Serious Personal Injury Claims
"From the very first meeting with Bob and his team, we knew instantly that we were in good hands. They were most sympathetic and supportive to our needs and gave us the encouragement to carry on our efforts in the hopes that justice could finally be served."

–Carol Ruse
It is testimonials like Carol's that motivate Robert Luce, a Vermont trial lawyer and litigator with over 30 years of experience working with seriously injured persons, and paralegal Louise Reese to peak performance on behalf of clients.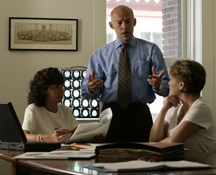 Peers have recognized Mr. Luce, chair of Downs Rachlin Martin's litigation group, as a top personal injury lawyer, earning this distinction through Super Lawyers and Best Lawyers, two of the most esteemed peer-review publications.
For more than 20 years, Ms. Reese has provided exceptional support to attorneys as they prepare for and try cases. She is an integral part of the personal injury litigation team as she collects, analyzes and reports on medical records; drafts discovery requests, responses and other pleadings; and manages document-intensive cases. She provides personal attention to clients, and is skilled in guiding them through the insurance and healthcare systems.
The Down Rachlin Martin personal injury team represents people in a wide range of serious personal injury matters, including wrongful death, dram shop, spinal cord injury, and products liability claims.
To fully illuminate our level of commitment to clients, we think our clients say it best. The complete testimonial from client Carol Ruse, who we represented in a wrongful death matter, follows:
"Tragedy struck our family when our youngest sister, a vulnerable adult, lost her life under the negligent care of her home provider on August 9, 2008. She was very special to all of her eight older siblings and their spouses along with a multitude of nieces and nephews.  We were all emotionally tied to finding justice for her and to put others on notice that this should never happen again.

"It took two long agonizing years for the state to prosecute a criminal case against the home provider.  Sadly, it ended with the accused being sentenced to a mere four (4) months of house arrest.  Obviously, we felt angry, frustrated, discouraged, and unsure where to start if we elected to take our sister's case to the civil courts.

"After much deliberation, it was decided to further our cause and have one of her brother-in-laws, Paul, act as our spokesperson to represent our family in a civil suit.  As a former State Treasurer of the State of Vermont, he had been involved with the office of Downs Rachlin Martin for many complex dealings over the years and felt strongly that we should pursue them first. When the firm was contacted, it was suggested that we speak with Bob Luce, head of the Litigation Division.

"From the very first meeting with Bob and his team, we knew instantly that we were in good hands. They were most sympathetic and supportive to our needs and gave us the encouragement to carry on our efforts in the hopes that justice could finally be served.

"At all times, considering our numbers, Bob and his team compassionately displayed an amazing ability to deal with our large family and the many wounds and emotions that we all were living with individually. 

"They instinctively understood!!!

"Throughout our relationship, Bob and his team held many personal family meetings always at our convenience—Saturdays or Sundays—and even at times they arranged conference calls to make it easier for us. We were kept up to date consistently and it was made very clear that they were available to not just our administrator, but each one of us at any time. It was evident that Bob, with his strong legal and litigation experience and kind heart, would leave no stone unturned in his quest to do what was right for our sister.  It was always endearing to us how personally they both took our case—we never felt like clients.

"Needless to say, our family remains today and always forever grateful to Bob and the firm of Downs Rachlin Martin. Their solid legal expertise, steadfastness, determination, and extreme empathy has given our family a priceless gift of peace. Knowing we did all we could do for our sister has brought us much needed comfort.  She can now be forever at rest.
"We thank them from the bottom of our hearts."

–Carol Ruse